Binoculars are cool tools that help you see faraway things better. They have two small telescopes mounted side by side, so you can use both your eyes to look at stuff far off. These nifty devices make things look bigger and clearer, which is handy for lots of things like enjoying nature, checking out stars, or watching fast sports.
Our Top 3 Recommendations
Most Popular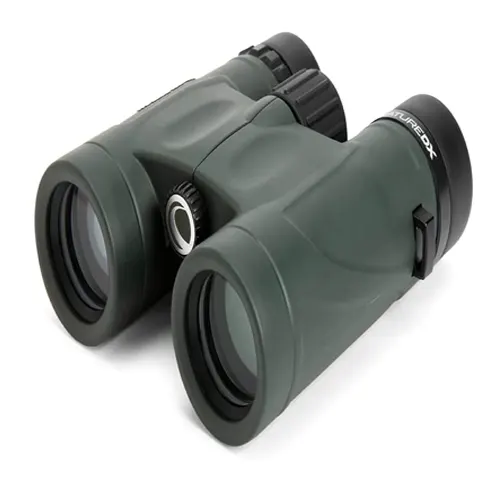 Nature DX 32 Binoculars
Budget Pick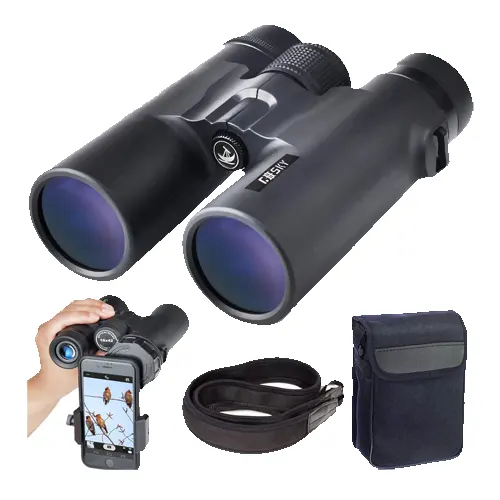 Gosky 10x42 Roof Prism Binoculars
You can use them for fun outdoor activities like birdwatching, stargazing, looking at animals, hiking, and watching sports events. Whether you love nature or like exploring, having a good pair of binoculars can make your adventures even more awesome by bringing faraway things close and clear. But, finding the best binoculars for under $100 can be overwhelming because there are so many choices out there. In this article, we'll talk about the important things to consider before buying and give you a list of the top 13 binoculars that work great without breaking your budget.
Recommended Binoculars Under $100
Included in this guide:
Best Binoculars Under $100 Reviews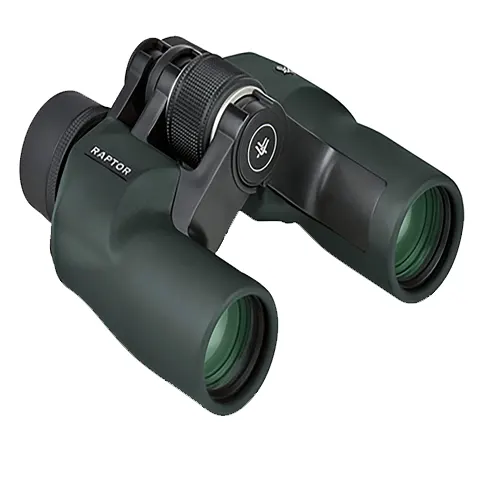 View on Amazon Read Customer Reviews
The first one is Vortex Optics Raptor Porro Prism Binoculars, a fantastic choice for under $100, offering amazing features that cater to all outdoor enthusiasts.
Let's talk about the design and build of these binoculars. Vortex is a well-known brand famous for making top-notch optics suitable for beginners and experienced explorers. They've ensured that the Raptor binoculars have an ergonomic design, making them comfortable to hold even during extended use. The durable rubber armor adds to their toughness, making them perfect for outdoor adventures.
One of the key highlights of the Vortex Raptor is its 8.5x magnification and 32mm objective lenses. These lenses provide a wide-angle view and do an excellent job of capturing enough light. The fully multi-coated lenses deliver sharp, vivid images with great color accuracy and clarity, even in tricky lighting conditions. So, you get a truly immersive viewing experience where every little detail of the natural world around you come to life.
The twist-up and down eyecups allow you to adjust the eye relief according to your needs, whether you wear glasses or sunglasses. This considerate feature ensures that everyone can enjoy comfortable and unobstructed viewing.
Moreover, the Raptor's right eye diopter accommodates differences in focus between your eyes, giving everyone a clear and sharp image. The interpupillary distance (IPD) adjustment lets you align the binoculars perfectly with your eyes, providing a seamless, shadow-free view that enhances your overall experience.
Its impressive performance in extreme weather conditions sets the Vortex Raptor apart. These binoculars are waterproof and fog-proof, thanks to nitrogen purging. So, they can handle the toughest environmental challenges, from rainy hikes to misty mornings in the wild. You can explore with confidence, knowing your equipment is well-protected.
The Raptor's versatility extends to its wide field of view, covering an impressive 390 feet at 1000 yards or about 7.4 degrees. This wide-angle design makes it easier to track fast-moving subjects during sports events or birdwatching sessions, so you never miss a moment of the action.
Using the Vortex Raptor is easy – adjust the eyecups and IPD to your preference, and it'll fit everyone in the family, from young children to adults. Its user-friendly design, and comfortable experience make it an excellent choice for people of all ages and facial structures.
The Vortex Optics Raptor Porro Prism Binoculars are the perfect companion for adventurers and nature enthusiasts. They offer unbeatable affordability, high-quality optics, and a rugged design, making them the top option under $100. Whether hiking through challenging terrains, observing wildlife up close, enjoying sports events, or marveling at the stars, the Vortex Raptor will elevate your outdoor experience.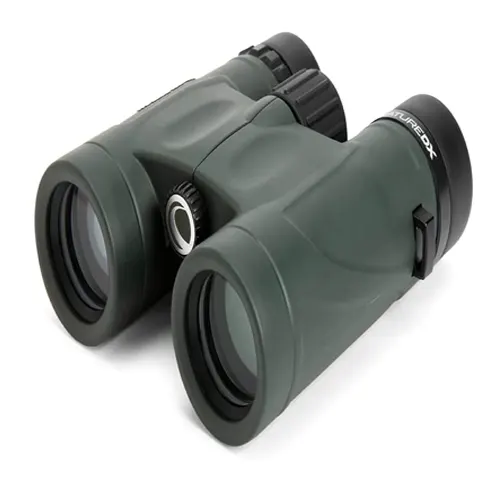 View on Amazon Read Customer Reviews
The Second binoculars are Nature DX 8x32, which is fantastic for outdoor activities like hiking, wildlife watching, birdwatching, hunting, stargazing, golfing, sports events, and even theater.
These binoculars stand out because of their amazing glass optics that make everything look clear and detailed. The special prisms inside help bring in lots of light, so the images are bright and vivid, even in low light. And with an 8x magnification, you can see faraway things well while still being able to focus on stuff that's close to you.
These binoculars are built tough and can handle rough weather. They're encased in rubber armor and made to be waterproof, so you won't have to worry about accidents during your adventures. And don't worry about fogging up because they're also nitrogen-purged.
Celestron is a trusted brand known for its top-notch products; these binoculars are no exception. They're sleek, compact, and lightweight, making them easy to carry anywhere.
Setting up and using these binoculars is easy peasy. They come with all the necessary accessories, like a neck strap for easy carrying, lens caps to protect them, and even a rain guard for the eyepieces. Oh, and there's a lens cloth to keep them nice and clean too. The instruction manual will help you get the most out of your binoculars and use them like a pro.
No matter what kind of outdoor enthusiast you are, these binoculars are your perfect buddy. They offer top-notch performance for all your adventures and won't cost you over a hundred bucks.
People love these binoculars because they're reliable and perform like a champ. So, if you want to level up your outdoor experiences and see the world in amazing detail, the Celestron Nature DX 8x32 Binoculars are the way to go.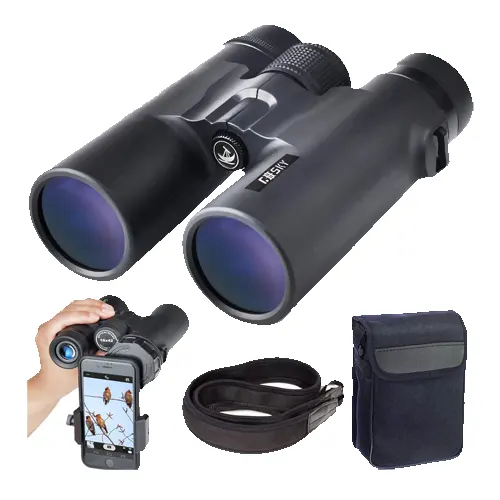 View on Amazon Read Customer Reviews
The third one is Gosky 10x42 Roof Prism Binoculars, which perform exceptionally well and come at an affordable price of under $100.
The standout feature of these binoculars lies in their high-quality optics. Their 10X high power magnification and 42mm objective lenses deliver sharp and detailed images, making them perfect for birdwatching, wildlife viewing, and even catching all the action in sports events like football matches. The fully multi-coated lenses and large BAK4 prism provide a bright and clear view, even in challenging light conditions like dawn or twilight.
One of the best things about Gosky Binoculars is their durability. They are built to withstand tough environments, ensuring they can handle rain, snow, or any other adverse weather conditions you might encounter during your adventures. Their tight-fitting protection and waterproof design keep them safe and functional in any situation. The shock-absorbing rubber armor adds an extra layer of protection against accidental drops or impacts.
Another great advantage is their lightweight design, weighing only 1.25 lbs. So, whether you're hiking, wildlife viewing, or attending sports events, these binoculars won't weigh you down.
The Gosky 10x42 Binoculars provide a generous field of view at 367ft/1000yds, allowing you to take in colorful details and capture more of the scenery in a single glance. The 18mm large eyepiece can be twisted up to accommodate users with or without glasses, ensuring a comfortable viewing experience for everyone.
To enhance your binocular usage, the package includes several accessories. Using the smartphone adapter, you can easily capture and share breathtaking views with friends and family. The carrying case, lens covers, cleaning cloth, and neck strap ensure your binoculars remain protected and easily accessible during excursions.
Gosky is a well-known and trusted brand in the optics market, favored by outdoor enthusiasts and hobbyists. The Gosky 10x42 Binoculars have earned a strong reputation for their credibility and reliability, receiving praise from reputable publications such as Outside and Audubon Southwest.
So, if you're looking for a high-quality pair of binoculars under $100, the Gosky 10x42 Roof Prism Binoculars are worth considering. Their superior optics, rugged design, lightweight build, and versatile field of view make them suitable for various activities, including birdwatching, hiking, wildlife viewing, sports events, stargazing, golf, and theater.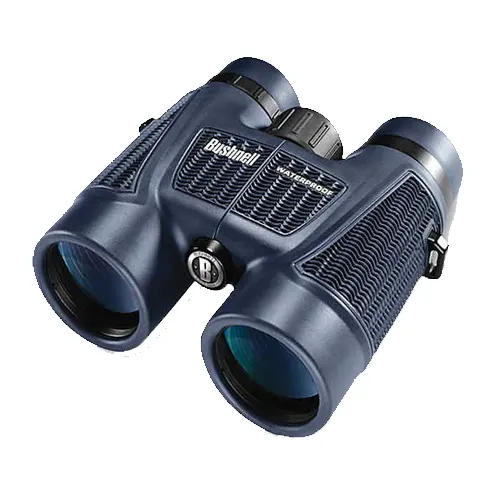 View on Amazon Read Customer Reviews
The Next amazing under 100 binoculars are Bushnell H2O Roof Prism Binoculars. These beauties have got all fantastic features. They're the perfect companions for various outdoor activities, like hiking, birdwatching, wildlife spotting, hunting, stargazing, golfing, sports events, and even catching a show at the theater.
The first thing that'll catch your eye is their attractive design and robust build. These Bushnell H2O Binoculars are made with high-quality materials, ensuring they last long and can handle whatever adventure you throw. Plus, the non-slip rubber armor gives you a solid grip and protects the binoculars from shocks so that they can withstand rough and tough trips, promising years of durability.
But what sets these binoculars apart is the stunning clarity they offer. With top-notch optics and HD vision, you'll be blown away by the views they provide. The 10x magnification and 42mm objective diameter work together to give you a clear and detailed image, even from afar. The multi-coated optics and premium BaK-4 prisms enhance light transmission, so you'll see crystal-clear images even in low-light conditions.
These binoculars are ready to handle whatever Mother Nature throws at them. They're waterproof and fog-proof, thanks to their IPX7 construction. That means they can handle wet and misty environments without a hitch. The O-ring seals keep water out, and the nitrogen-purging prevents fogging inside, making them perfect for those critical moments during outdoor escapades.
Using these binoculars is a breeze, thanks to their user-friendly design. The large center focus knob allows for quick adjustments, and the twist-up eyecups are perfect for those who wear glasses. You'll never miss a breathtaking moment during your adventures with these thoughtful features.
Whether you're hiking, birdwatching, or exploring wildlife, these binoculars excel in various activities. They have a close focus distance of 12 feet and 17mm eye relief, making them comfortable for extended periods of use. They're just what avid hunters, stargazing enthusiasts, and anyone who loves observing the world need.
Bushnell has a solid reputation in the optics industry, and their H2O Binoculars live up to that legacy. Outdoor enthusiasts and professionals love them for their innovative design and top-notch quality. And to top it off, they come with a limited lifetime warranty, so you can rest assured that Bushnell stands behind the durability and performance of these binoculars.
So, if you're all about adventure and soaking in the beauty of nature, the Bushnell H2O Binoculars are your perfect match. Whether you're an avid hiker, birdwatcher, or wildlife photographer or enjoy getting close to sports events or shows, these binoculars will take your experience to the next level. They're affordable, durable, and offer exceptional optics, making them an excellent choice for beginners and seasoned adventurers.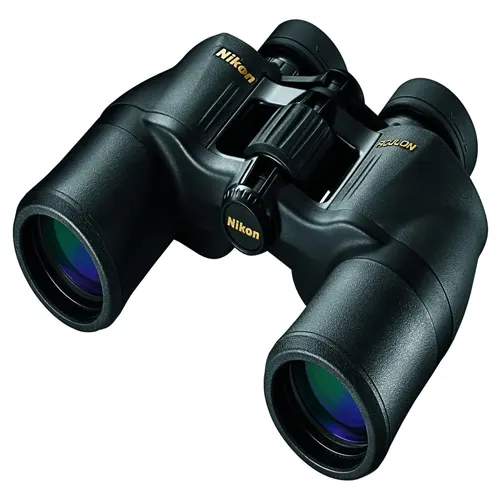 View on Amazon Read Customer Reviews
The fifth one under 100 binoculars is Nikon 8245 ACULON A211 8x42 binoculars. They're the ideal companion for various outdoor activities, adding value to your adventures.
Nikon, a well-respected and widely recognized brand, has designed the ACULON A211 8x42 binoculars with precision and careful attention to detail. This has made them a hit among outdoor enthusiasts and professionals alike. The binoculars boast a sleek and functional appearance, are lightweight, and have excellent ergonomics. You can use them comfortably for extended periods without discomfort or strain.
What makes these binoculars truly exceptional is their innovative use of Aspherical Multicoated Eco-Glass Lenses. These lenses offer a flat field of view, enhance image brightness, and deliver astonishing clarity and precision. Even better, the lenses are made from eco-friendly glass composition, reflecting Nikon's commitment to environmentally responsible manufacturing by avoiding harmful substances like lead and arsenic.
With the ACULON A211, you can observe distant subjects with remarkable clarity, even in challenging lighting conditions. Whether you're birdwatching or stargazing, these binoculars perform exceptionally well for both activities.
Nikon has also thoughtfully designed the ACULON A211 with user convenience in mind. The Turn-and-Slide Rubber Eyecups allow for easy positioning of your eyes, ensuring comfortable viewing during extended use. The smooth central focus knob makes focusing a breeze, so you never miss a moment of action.
Durability is key in outdoor gear, and the ACULON A211 8x42 binoculars certainly don't disappoint. The rugged rubber-armored coating provides a non-slip grip, giving you added confidence while using the binoculars in wet or challenging terrains. These binoculars are built to withstand the rigors of your adventures, year after year.
No matter what your passions are whether you're a birdwatcher, nature enthusiast, sports fan, or stargazing aficionado – the ACULON A211 8x42 binoculars cater to them all. Their versatility and exceptional image quality make them equally suitable for observing the fine details of birds in flight or getting a closer look at your favorite players during a sports event. They're also perfect for travelers and hunters, ensuring you don't miss critical moments during your expeditions.
If you're looking for an affordable yet high-performing optical instrument, the Nikon 8245 ACULON A211 8x42 binoculars are an excellent choice. You can expect unmatched quality, comfort, and reliability with Nikon's trusted brand reputation. Whether an adventure seeker or a wildlife enthusiast, these binoculars will be your trusted companion on your next outdoor escapade.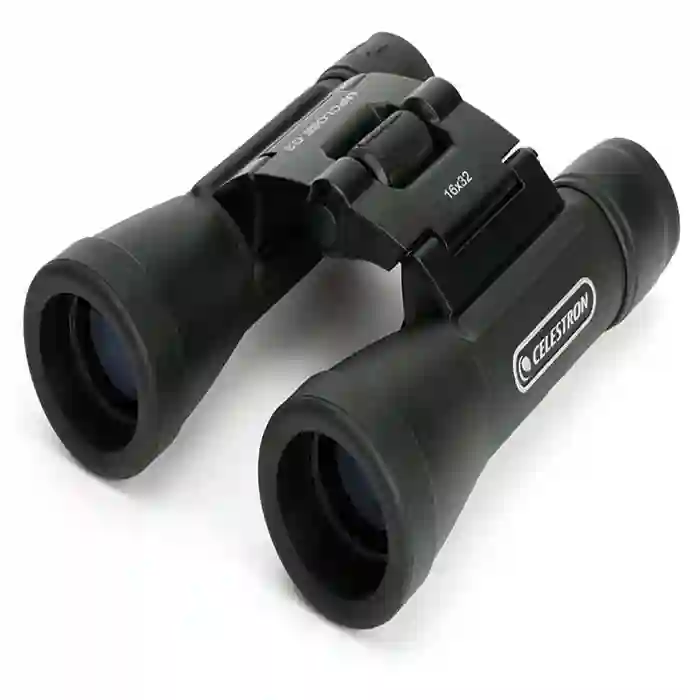 View on Amazon Read Customer Reviews
The six one 100$ binocular is Celestron UpClose G2 16x32 Binocular. These binoculars offer high-quality optics at an affordable price, making them suitable for both beginners and experienced adventurers. Let's examine what makes the Celestron UpClose G2 16x32 Binocular stand out and why it's ideal for various activities.
One of the first things you'll notice about these binoculars is their stylish rubber-covered aluminum body. Not only does it give them a premium feel, but it also ensures durability, protecting the binoculars from rough handling during your adventures. The ergonomic design with thumb indents and finger ridges enhances comfort and provides a secure grip, even during long observation sessions.
With a 32mm objective lens diameter and 16x maximum magnification, these binoculars deliver crisp, sharp images with high contrast levels. The multi-coated optics maximize light transmission, resulting in brighter views. Whether you're birdwatching, wildlife viewing, or enjoying scenic landscapes, the Celestron UpClose G2 16x32 Binocular provides an immersive visual experience.
Furthermore, this binocular is a water-resistant property, offering extra protection against unexpected weather changes. Thanks to the included soft carrying case and binocular straps, you can easily carry your Celestron UpClose G2 wherever you go. This portability makes it perfect for hiking, wildlife expeditions, and sporting events.
The versatility of these binoculars shines through in multiple activities. Birdwatchers will find the Celestron UpClose G2 16x32 Binocular a reliable companion, allowing them to spot even the tiniest details easily. Hunters will appreciate the high power and compact design, offering clear views of targets even from a distance.
For stargazing enthusiasts, these binoculars are excellent for exploring celestial wonders. Their small size and dual-hinge design make them incredibly convenient for nighttime adventures under the vast expanse of the sky.
Sports events and concerts become even more enjoyable with the Celestron UpClose G2. Its high magnification lets you get up-close views, immersing you in the action. Moreover, the fully armored exterior ensures that the binoculars remain intact, even amidst enthusiastic crowd movements.
These binoculars feature folding eyecups that are comfortable to use, whether you wear eyeglasses or not. The built-in neck strap adds convenience, so you're always ready for your next observation session. The package includes essential accessories such as a padded carrying case, lens cloth, and instruction manual, ensuring you have everything you need for a seamless experience. Its multi-coated lenses, water-resistant feature, and durable design make it a reliable companion for various activities, including hiking, wildlife viewing, birding, hunting, stargazing, sports events, and theater.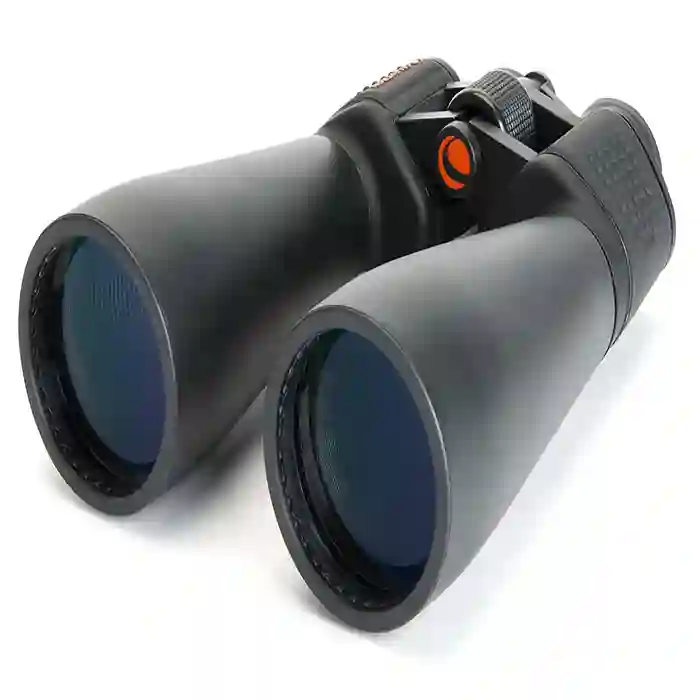 View on Amazon Read Customer Reviews
The Next one is Celestron SkyMaster 15x70 Binoculars ultimate companion for all your adventures and hobbies. Whether you're a nature lover, stargazer, wildlife enthusiast, or sports fan, these binoculars are tailored to meet your unique needs.
Designed with your comfort in mind, the SkyMaster 15x70 features an ergonomic and user-friendly design, ensuring you can use them for extended periods without discomfort. And with their water-resistant feature, you need not worry about sudden rain showers spoiling your outdoor fun.
These binoculars are a fantastic entry-level choice for all you astronomy enthusiasts. With an impressive 15x magnification, you can explore the moon's intricate craters, spot planets like Jupiter and its moons, and even catch glimpses of far-off galaxies. Unlike telescopes, they provide a wider field of view, making scanning the night sky and locating various celestial objects effortlessly easier.
If hiking and observing wildlife is your passion, the Celestron SkyMaster Binoculars are a must-have addition to your gear. The large aperture and powerful magnification allow you to watch animals from a distance without disturbing their natural habitats. Whether tracking elusive bird species or observing wildlife in their environment, these binoculars provide crystal-clear images, making your wildlife viewing experience truly unforgettable.
Even for hunters, the SkyMaster 15x70 Binocular comes in handy. Its long-range capabilities let you scout potential game targets without getting too close, increasing your chances of a successful hunting expedition.
And let's remember sports fans! These binoculars make sports events even more enjoyable. Whether in the front row or seated far away, you'll get a close-up view of the action, allowing you to cheer on your favorite teams with enthusiasm and excitement.
So, if you love the great outdoors, stargazing, wildlife watching, or sports events, the Celestron SkyMaster 15x70 Binoculars are the best choice.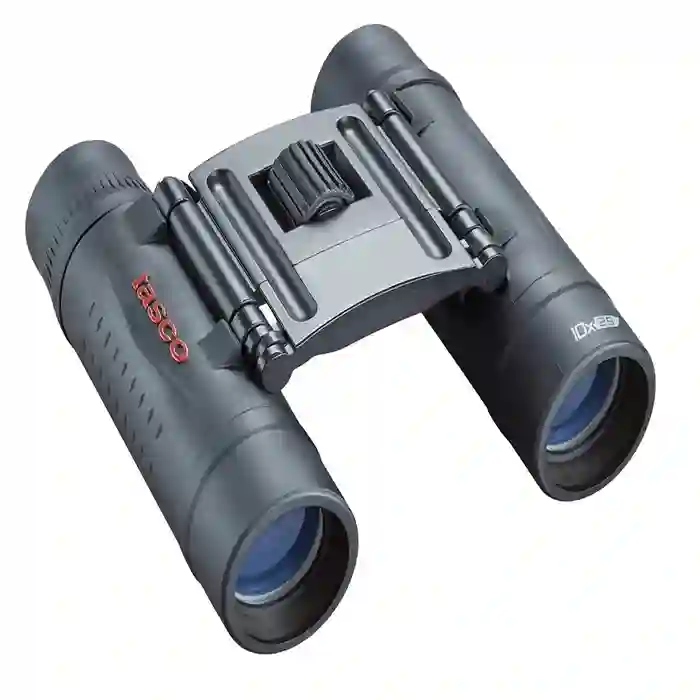 View on Amazon Read Customer Reviews
The Eight one is TASCO Essentials Roof Prism Roof MC Box Binoculars. These incredible binoculars deliver top-notch performance and outstanding features, all at a budget-friendly price of under $100. Whether you're a hiking enthusiast, wildlife lover, birdwatcher, hunter, stargazer, golfer, sports fanatic, or theatergoer, these binoculars will undoubtedly enhance your experiences and open a whole new world of possibilities.
What sets the TASCO Essentials Roof Prism Binoculars apart is their powerful 10x magnification, providing exceptional clarity when viewing distant objects. Despite their incredible power, they're compact and easy to carry, making them the perfect companion for any outdoor adventure, no matter the conditions. The TASCO Essentials Binoculars are a game-changer for all you hiking enthusiasts. Enjoy breathtaking scenic views, take in majestic mountain ranges, and observe wildlife from a distance, adding an exhilarating dimension to your hiking adventures.
Wildlife viewing and birdwatching become an absolute delight with these binoculars. You can observe birds and animals up close without disturbing their natural habitat. The fully coated lenses make the images bright and clear, allowing you to see every tiny detail of the creatures you encounter.
Hunters, you'll love the advantages these binoculars offer. The 10x magnification allows you to scout for targets from afar, giving you a strategic edge. Their compact size ensures they will keep you from weighing you down during those extended hunting trips.
Stargazing reaches a whole new level with TASCO Essentials Binoculars. Thanks to their excellent light-gathering capabilities, you can explore celestial bodies and constellations, adding a touch of wonder to your nights under the stars.
For golfers, these binoculars are a valuable tool on the course. Use them to survey the entire course, analyze obstacles, and precisely plan your shots. Elevate your golfing experience and improve your game with these versatile binoculars.
Sports events come alive with the TASCO Essentials Binoculars. Whether it's football, soccer, or any other sport, the 10x magnification brings you into the heart of the action, ensuring you don't miss a single moment of the game.
Even theater lovers can benefit from these binoculars. When seated far from the stage, these binoculars help you get a clear view of the performers and their expressions, making your theater experience even more enjoyable.
Regarding looks and build quality, TASCO is known for producing reliable and durable optics, and the Essentials Roof Prism Binoculars live up to this reputation. Their compact design and sturdy roof prism system can handle rough handling during all outdoor escapades.
The center focus system allows for quick and precise adjustments, making it effortless to focus on your subject. The fully coated lenses also improve light transmission, delivering vibrant and sharp images.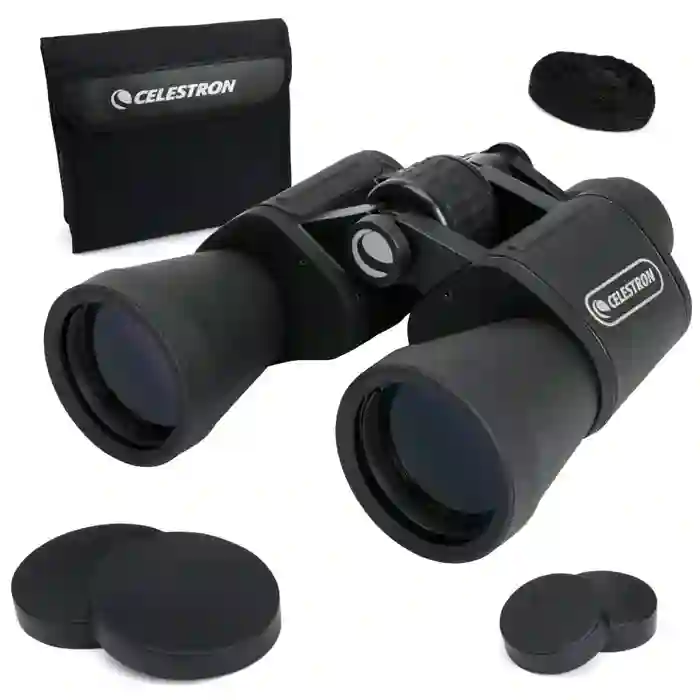 View on Amazon Read Customer Reviews
The Next one is Celestron UpClose G2 10x50 Binocular. This binocular offers top-notch performance and amazing features, all without breaking the bank, at under $100.
One of the coolest things about the Celestron UpClose G2 10x50 Binocular is its multi-coated optics. And they didn't skimp on the looks, either. These binoculars have a sleek and tough design, with a rubber-covered aluminum body that feels premium and can handle some rough handling. Perfect for all your outdoor adventures.
These binoculars are water-resistant, so that you can use them rain or shine. These binoculars can handle it all, whether caught in an unexpected downpour during a hike or spying on wildlife near a lake.
With 10x magnification power and 50mm objective lenses, the Celestron UpClose G2 lets you zoom in on objects with amazing clarity. Those multi-coated lenses do wonders, even in low-light conditions. So, no matter where your adventures take you, these binoculars will be your trusty sidekick.
Despite its powerful performance, the binocular is surprisingly lightweight and easy to carry around. It won't weigh you down during those long hikes or wildlife expeditions.
Durability is another thing they nailed. The binocular has a fully armored exterior, ready to take on whatever the great outdoors throws. You can trust it to withstand all the bumps and bruises of an active lifestyle.
The Celestron UpClose G2 10x50 Binocular has got you covered there too. The soft, folding eyecups make your viewing experience a breeze, and they're adjustable for eyeglass wearers, so no one feels left out when exploring nature's wonders. And here's a neat bonus. During those extended observation sessions, you can mount these binoculars on a tripod for hands-free viewing.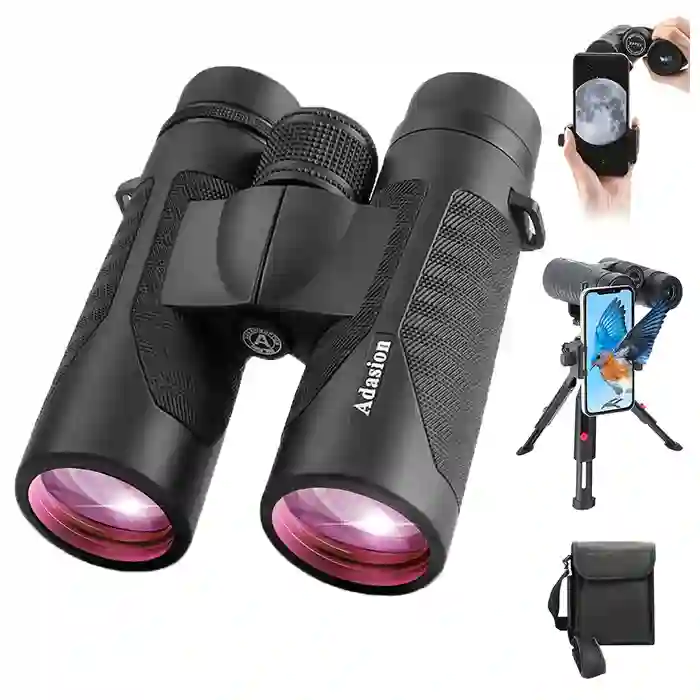 View on Amazon Read Customer Reviews
The Next one is Adasion 12x42 HD Binoculars. These binoculars are packed with impressive features that make them perfect for all sorts of outdoor activities, and they're priced under $100.
One of the standout features of these binoculars is the 18mm large eyepiece. Compared to those tiny 12mm and 16mm eyepieces, this one offers a whopping 2.25 times larger image size. That means you get a clearer and more detailed view, perfect for bird watching, wildlife viewing, and even stargazing.
Another cool thing about these binoculars is their 16.5mm big BAK4 prism lens. It collects much lighter than those smaller lenses, like 12.5mm and 14.5mm. A bright and crisp view that will blow your mind.
With a potent 12x magnification and a 42mm objective lens, these Adasion binoculars also give you a wide field of view. You can see up to a whopping 367 feet at 1000 yards. So, whether you're into bird watching, hunting, sports events, or theater performances, these binoculars have your back. Oh, and if you wear glasses, no worries - the eye cups are adjustable to accommodate your needs.
Adasion includes a nifty phone adapter with these binoculars. It aligns your phone's camera with the binoculars so that you can take amazing photographs and videos of distant objects. It works with various phone models, like iPhone X, Samsung Galaxy series, Huawei, LG, Sony, and more.
Now, let's talk about the design and build quality. Adasion nailed it with these binoculars. They look sleek and stylish and are made from tough materials, yet they weigh only 1.25 pounds (about 560g). So they won't weigh you down during your adventures.
And don't worry about complicated setups or usage these binoculars are super user-friendly. You can get them up and running quickly and adjust the focus. The phone adapter is also a breeze, making it easy to snap photos and record videos on the go.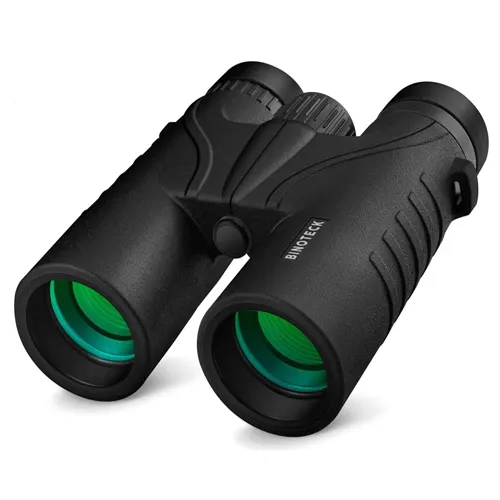 View on Amazon Read Customer Reviews
The next one is Binoteck 10x42 Binoculars. These binoculars are packed with affordable features and performance, making them the ultimate choice for all sorts of activities like hiking, birdwatching, wildlife viewing, hunting, stargazing, golf, sports events, and even theater experiences.
The Binoteck 10x42 Binoculars are stylish and built to last with premium materials. You'll be impressed by the attention to detail that went into making them durable and reliable.
These binoculars won't be a burden when you're out and about. They're lightweight and easy to carry on all your adventures. Plus, that rubber coating gives you a comfy and secure grip, even during long use sessions. Remember, while water-resistant, don't expose them to heavy rain or dunk them in water.
These binoculars boast exceptional clarity and magnification thanks to their professional 10x42 HD lens. With a wide field of view and a range of 1000 yards, you'll be blown away by the breathtaking HD images. Whether observing wildlife, landscapes, sports events, or concerts, the Binoteck binoculars will take your viewing experience to the next level.
The multi-coated objective lenses and eyepieces ensure optimal light transmission, giving you ultra-bright, sharp, and crystal-clear views. The BAK-4 prisms enhance the image quality, making everything brighter and crisper; it's like being right in the middle of the action. Whether you wear glasses or not, you'll have no trouble adjusting the central focus wheel and right eyepiece ring to get that perfect view distance while enjoying high-definition vision. Even if you wear glasses, these binoculars have got you covered. The rubber eyepieces can be twisted up or down to give you a comfortable experience.
Thanks to their exceptional performance and user-friendly design, they cater to a wide range of folks. For birdwatchers and nature lovers, you'll adore the detailed and clear views they offer for wildlife observation. Hunters, these binoculars will be your best buddy during your expeditions!
Stargazers, get ready to explore the night sky like never before. Sports fans, you can get up close and personal with your favorite athletes during games. And yes, theatergoers, you can elevate your experience by getting a closer view of all the action on stage.
These Binoteck 10x42 Binoculars are an absolute steal regarding value for money. With their incredible optical performance, user-friendly design, and versatility across various activities, they're hands down the best choice under $100.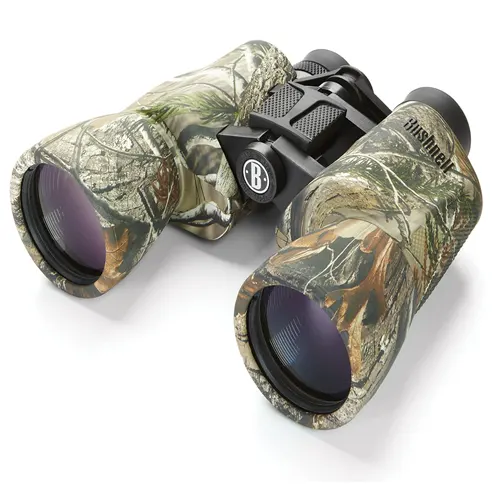 View on Amazon Read Customer Reviews
Introducing the next amazing Bushnell PowerView 10 x 50mm Porro Prism Instafocus Binoculars in Realtree AP. These binoculars are designed to bring the world closer to you with unparalleled clarity and performance. They're an absolute favorite among outdoor enthusiasts and adventurers, and the best part is that they won't break the bank, coming in at under $100.
Now, let's dive into what makes these binoculars unique and why they're the ultimate companions for various activities. First, their 10x magnification and 50mm objective lenses provide clear and crisp views, making your nature-watching experience truly immersive. The BK-7 prism multi-coated optics ensure bright and detailed images no matter the lighting conditions, whether wildlife observation or stargazing.
One nifty feature is the Instafocus Technology, allowing you to quickly adjust focus and capture those fast-moving moments during your outdoor adventures. Plus, the fold-down eyecups accommodate everyone, including eyeglass wearers, for a comfortable viewing session.
Built tough and sporting a handsome Realtree AP camouflage design, these binoculars can easily handle rough outdoor conditions. The non-slip rubber armor provides shock absorption and a secure grip, giving you peace of mind throughout your journeys.
Regarding quality, the PowerView series has been extensively tested for reliability and longevity, making them your trusted companion for years.
Now, let's talk about the activities where these binoculars truly shine. At sports events, you get a wide-angle view with excellent clarity, perfect for following the action from the stands. Birdwatching and wildlife viewing are an absolute delight, thanks to their versatility. And when the sun sets, you can explore the night sky and marvel at celestial wonders.
Golf enthusiasts will appreciate the precision these binoculars offer, helping you observe the course and gauge distances like never before. Even theatergoers benefit from an enhanced view of the stage, capturing every detail of the performance.
The package includes:
lens covers
a lens cleaning cloth
a product manual
a convenient carrying case, they've got you covered for all your adventures.
The porro prism construction adds to their appeal, providing a high-quality casual viewing experience at sporting events or concerts without the hefty price tag of other high-end binoculars.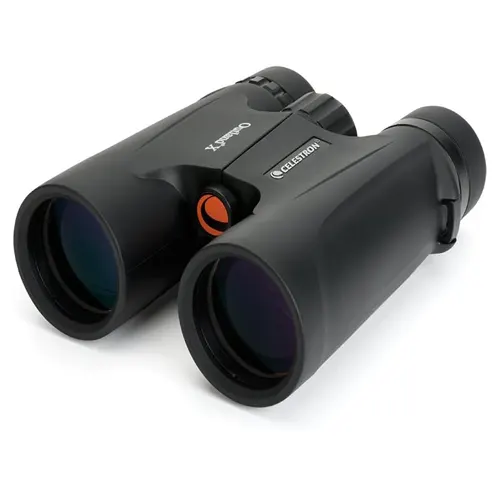 View on Amazon Read Customer Reviews
The next one is Celestron Outland X 10x42 Binocular. They're fantastic because they have outstanding features and a price that won't break the bank.
One standout feature of these binoculars is their powerful 10x magnification, which lets you see distant subjects with incredible detail and clarity. Whether tracking wildlife or gazing at the stars, the Celestron Outland X delivers impressive and crisp views, immersing your experience.
Plus, they're designed to handle the challenges of outdoor exploration. They're waterproof and fog proof, with a rugged exterior and filled with dry nitrogen gas. So no matter what the weather throws at you, you can confidently explore, knowing your binoculars will hold up.
The Celestron Outland X binoculars also boast multi-coated optics and BaK-4 prisms, which enhance their performance even more. The multi-coated optics give you vibrant and true-to-life colors with high resolution and contrast, while the BaK-4 prisms ensure superior color fidelity for an even more captivating visual experience.
And let's talk about the design. They've got that sleek and sturdy look. Covered in protective rubber armor, these binoculars can handle rough use and provide an anti-slip grip, so they're comfortable to use even during long birdwatching or traveling periods.
Using them is super easy, too. The large focus knobs allow for quick and precise adjustments, so you get the perfect focus every time. The twist-up eyecups are great for customizing the binoculars' eye relief, accommodating users with or without eyeglasses, and ensuring everyone gets a full field of view.
Celestron has a solid reputation for making high-quality products, and the Outland X 10x42 Binoculars are no exception. Their commitment to quality and innovation has made them popular among outdoor enthusiasts. Their exceptional performance and affordable price make them perfect for various activities, like stargazing, birdwatching, and more.
And if you're looking for reliable optics under $100, these binoculars are a fantastic option. With their powerful magnification, weather-resistant design, and top-notch optics, you get much value for your money. Whether you're a seasoned stargazer or a newbie birdwatcher, the Celestron Outland X 10x42 Binoculars are ideal for unforgettable outdoor experiences.
Factors to Consider When Buying Binoculars Under $100:
Magnification and Objective Lens Diameter:
When you're in the market for binoculars, you need to consider two crucial factors: their magnification power and the diameter of their objective lens. The magnification, indicated by a number followed by "x" (e.g., 8x or 10x), determines how much closer objects will appear. While higher magnification might seem appealing, it can narrow your field of view and require steadier hands or a tripod to avoid shakiness. On the other hand, the objective lens diameter plays a vital role in gathering light, significantly influencing the brightness and clarity of the images you'll see.
Field of View and Exit Pupil:
A broader field of view is essential to capture more without constantly adjusting your binoculars, making it ideal for activities like birdwatching. It also helps to consider the exit pupil, which can be calculated by dividing the objective lens diameter by the magnification value. The exit pupil governs the amount of light that reaches your eyes. If you want better performance in low-light conditions, such as early mornings or late evenings, look for binoculars with a larger exit pupil.
Lens Coating and Image Quality:
The quality of your binoculars heavily relies on the type of lens coatings they have. Coated lenses help minimize glare, enhance image contrast, and provide sharper and clearer views. For the best performance, keep an eye out for binoculars with multi-coated or fully multi-coated lenses. Additionally, when comparing different models, pay close attention to image quality, color fidelity, and sharpness to ensure the best viewing experience.
Prism Type and Binocular Design:
Binoculars commonly use two types of prisms first one is roof prisms and second one is Porro prisms. Roof prisms are sleek and compact, while Porro prisms provide a more three-dimensional appearance. Each type has advantages, so choose the one that aligns with your preferences and intended use. Also, consider the overall design, weight, and grip comfort, especially if you plan on using them for extended periods.
Compact and Lightweight Design:
If you're into outdoor activities that involve a lot of movement, like hiking or camping, compact and lightweight binoculars are essential. We'll introduce you to some of the best lightweight options that won't burden you during your adventures.
Versatility for Various Activities:
The best binoculars under $100 should be versatile enough to support various activities. Whether you enjoy observing wildlife, attending sports events, or stargazing, we've got you covered with binoculars that can adapt to any scenario.
Durability and Build Quality:
Investing in durable binoculars that can withstand rough handling and last for years is wise. We'll showcase options built with durability in mind, ensuring they become your trusted companions on countless adventures.
User-Friendly Features:
Binoculars with user-friendly features offer a more enjoyable experience. Our discussion will revolve around options featuring comfortable grips, adjustable eyecups, and smooth focusing mechanisms, catering to users of all ages.
High-Quality Optics on a Budget
A limited budget doesn't mean you have to compromise on optics. We already mentioned binoculars that offer excellent optical performance without breaking the bank.
How to Use Binoculars Effectively:
Using binoculars effectively requires a combination of proper technique and adjustments to get the best view. Whether you're into birdwatching, stargazing, or catching those sporting events from afar, follow these steps to get the most out of your binoculars:
Adjust the Interpupillary Distance:
Adjust the binoculars' eyepieces to match the space between your eyes. Hold them up to your eyes and tweak the spacing until you see a unified circular view.
Focus on the Eyepieces:
Focus on a distant object using your left eye, then adjust the central knob. After that, switch to your right eye and fine-tune the focus using the diopter adjustment, usually found on the right eyepiece. Once both eyes are clear, you won't have to adjust it again unless someone else uses your binoculars.
Hold Steady:
Rest your elbows on something sturdy or against your body to stabilize the binoculars. This helps you get a clear and steady view by reducing any shaking from your hands.
Use Both Eyes:
Keep both eyes open when using binoculars. It reduces eye strain and allows you to stay aware of your surroundings.
Scan Smoothly:
Don't jerk the binoculars around when searching for something. Instead, move them smoothly, and when you spot your target, bring them up to your eyes and adjust the focus as needed.
Adjust Zoom and Focus:
If your binoculars have a zoom function, set the zoom to your liking and then fine-tune the focus to get a clear image.
Use Lens Caps and Straps:
Protect the lenses with lens caps when you're not using them. Also, use a neck strap or harness to keep them close and prevent accidental drops.
Be Mindful of Light Conditions:
Remember that the quality of what you see can change based on lighting conditions. In bright daylight, you might need to reduce glare, while in low light or at night, your binoculars may have features to enhance brightness.
Practice Regularly:
Like any skill, using binoculars gets better with practice. Take the time to observe different objects at varying distances and lighting conditions. This will help you become more proficient with your binoculars.
Clean Your Binoculars:
Regularly clean the lenses and other parts of your binoculars using a soft, lint-free cloth. Be gentle and avoid using rough materials or cleaning solutions that could damage the optics.
Caring for Your Binoculars:
To ensure your binoculars stay in excellent condition and provide clear, sharp images for years, it's essential to take good care of them. Here are some practical and crucial tips for caring for your binoculars:
Storage:
Always keep your binoculars in a protective case when you're not using your binoculars. This will shield them from dust, dirt, and accidental bumps when storing or carrying them around.
Avoid Moisture:
Moisture can damage the internal components of your binoculars. If your binoculars get wet, dry them off promptly with a soft, clean cloth. Avoid using heat sources like hair dryers or heaters, as excessive heat can harm the delicate optics.
Lens Protection:
The lenses are the heart of your binoculars and need special care. Invest in lens covers or caps to protect them when not used. And during your observations, try not to touch the lenses with your fingers, as the natural oils from your skin can leave smudges and affect the quality of the images.
Cleaning:
Regularly clean the lenses and eyepieces to remove dirt, smudges, and dust. To do this, you can use a soft lens brush or an air blower to eliminate loose particles. For more stubborn smudges or fingerprints, a microfiber lens cloth or a lens cleaning solution designed for optics will do the trick. Gently wipe the lenses in a circular motion, starting from the center and moving outward.
Avoid Harsh Chemicals:
It's crucial to avoid using harsh chemicals, solvents, or abrasive materials to clean your binoculars. These substances can damage the lens coatings and other sensitive components.
Tripod Usage:
If you have larger and heavier binoculars, use a tripod to mount them. This will help reduce strain on your arms and neck during long observation periods, lowering the risk of accidentally dropping or damaging the binoculars.
Adjustments:
Always use gentle pressure when adjusting the focus or diopter settings. Applying excessive force can cause misalignment and negatively impact the performance of your binoculars.
Extreme Conditions:
Be cautious if you plan to use your binoculars in extreme weather conditions, like very hot or cold environments. Extreme temperatures can affect the internal components and potentially lead to damage.
Service and Maintenance:
Take the time to regularly inspect your binoculars for any signs of wear and tear. If you notice any issues with the optics or mechanics, it's best to seek the assistance of a professional technician to prevent further damage.
Read More:
Frequently Asked Questions
Are expensive binoculars worth the investment?
Investing in expensive binoculars can provide higher-quality optics and additional features. However, if you're on a budget, the binoculars in this article offer excellent value and performance.
Can I use these binoculars for stargazing?
Absolutely! Some binoculars mentioned here are great for stargazing, offering clear views of celestial objects without needing a telescope.
Do these binoculars come with a warranty?
Yes, binoculars from reputable brands usually have a limited warranty, covering manufacturing defects.
Are these binoculars suitable for eyeglass wearers?
Many binoculars listed here are designed with adjustable eyecups, making them suitable for eyeglass and non-eyeglass wearers.
Can I use these binoculars for birdwatching?
Definitely! Birdwatchers will find several options in this article that offer the right combination of magnification and field of view for an excellent birdwatching experience.